CATEGORY
Filter By

Price ( $ )

SET
Human Hair Wigs
Sort By:
Recommended
0 Styles
Sorry, no results matched your search request.

Suggestions:
1, Make sure all words are spelled correctly.
2, Reduce filter condition for more results.
3, Adjust the price range.
4, Try other keywords.
If you love hair wigs, but you prefer a most natural look, our human hair wigs are perfect for you! Rosegal can offer you the solution for daily chic and stunning hairstyles without wasting a fortune on it. Go from short hair to beautiful, glamorous long styles with our great selection, if you want to experiment with a short style without having to cut your natural hair, you can choose a short wig with blonde or brunette, or choose colors more daring like electrical red or orange. You can also choose ombre or lighting styles if you want a more fashionable hairstyle. If you prefer a most luxuriant look, you can choose from our curly or straight human hair wigs. One of the big advantages of natural human hair wigs is that you can style the real hair as you want! There a lot of versatility with them: curly, strength or cut them to create fabulous hairstyles and suit your tastes. And our products are really easy to put on and to maintain, they are durable, and with the proper care, our human hair wigs can be used for several years. Don't wait more! Get now your favorite one with the best online prices!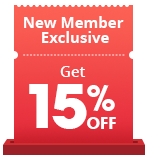 Complete your order
item(s)
Waiting for payment
0 days 00: 00: 00
Hurry! Before these items sold out!